Snorkeling in Sicily
Octopus snorkeling, hiking, archaeology, cave, volcano & more
Sicily, home to the finest snorkeling experiences
Sicily is the biggest island in the whole Mediterranean Sea. However, what really impresses is the huge diversity in its coastal environments. This makes Snorkeling in Sicily, a great way to discover the marvels of these timeless places.
It is possible to go snorkeling around volcanoes. Snorkel into caves with crystal clear waters, being right under steep mountains. It is even possible to go snorkeling by archaeological sites, inside and outside the water. Night snorkeling in shallow and sheltered water is an opportunity, due to the calm Mediterranean sea. These are just some of the Sicily Snorkeling tours that we operate. In addition, Sicily is also one of the best places in the world to go Snorkeling for Octopus. Our team is specialized in octopus finding. It is a family tradition, with skills gained through over 30 years of freediving and snorkeling.
Snorkeling Sicily for Octopus
WildSicily specializes in Snorkeling for Octopus. Meeting them is always exciting and something magical. Finding the octopus, put the snorkelers into a carefully guided research into beautiful shallow water seabeds. The contact with this special creature, in its natural habitat, is another surprise. You'll understand the way he hides, thinks, and interacts are part of his strange lifestyle! This is an experience you'll never forget.
Octopus Snorkeling Day Tours
Octopus lives all around Sicily. However, only in certain spots, they are easy to encounter and in high quantities. South Sicily is one of the best spots where we prefer to meet them. The conditions for snorkelers are perfect and the surroundings are just beautiful for snorkeling. The east coast of Sicily also offers a lot of activity opportunities to combine with snorkeling.
Octopus snorkeling is available in other areas of Sicily, apart from South Sicily. We are talking about Northern Sicily and Western Sicily in particular.
North Sicily Snorkeling for octopus
The North Sicily Octopus Snorkeling tour spots are accessible via a short boat transfer to a remote and scenic gravel beach. The beach quickly drops down to 20 meters under sea level and the water is extremely clear. This gives life to an unusual environment full of life and feeding action, in addition to a beautiful atmosphere. The first 10 meters of water creates a spectacular palette of colors, ranging from white to dark blue.
When Snorkeling Sicily it is possible to combine Octopus research with an archaeology tour. The archaeology and octopus snorkeling combo, concentrates on a day tour, the best of Northern-eastern Sicily area. Experience archaeology, architecture, legends, landscapes, food, and spectacular pieces of the sea.
West Sicily Snorkeling For Octopus
Talking about Snorkeling in Western Sicily, we have to mention Snorkeling Egadi islands marine reserve. This archipelago includes 3 main islands. Favignana island is in particular our main West Sicily Octopus Snorkeling tour destination. After many years and hundreds of hours in the water of this charming island, we managed to discover some of the most beautiful secluded paradise corners, full of wildlife.
Snorkeling in Egadi islands includes another particular experience. The Cave Snorkeling tour is a unique experience, snorkeling in and out from a steep mountain. The itinerary is made of multiple caves of different sizes and shapes to visit with snorkeling gear. Some caves pass literally through the mountain, creating an amazing, sometimes palpitating game of light. On the other hand, the waters are extremely crystal clear.
It is possible to go for a Hiking and Cave Snorkeling combo as well. In short, we go for a particular breathtaking hike, to select between 3 itineraries, before the Cave Snorkeling.
Get in touch with us for bookings and queries.
Octopus Snorkeling Packages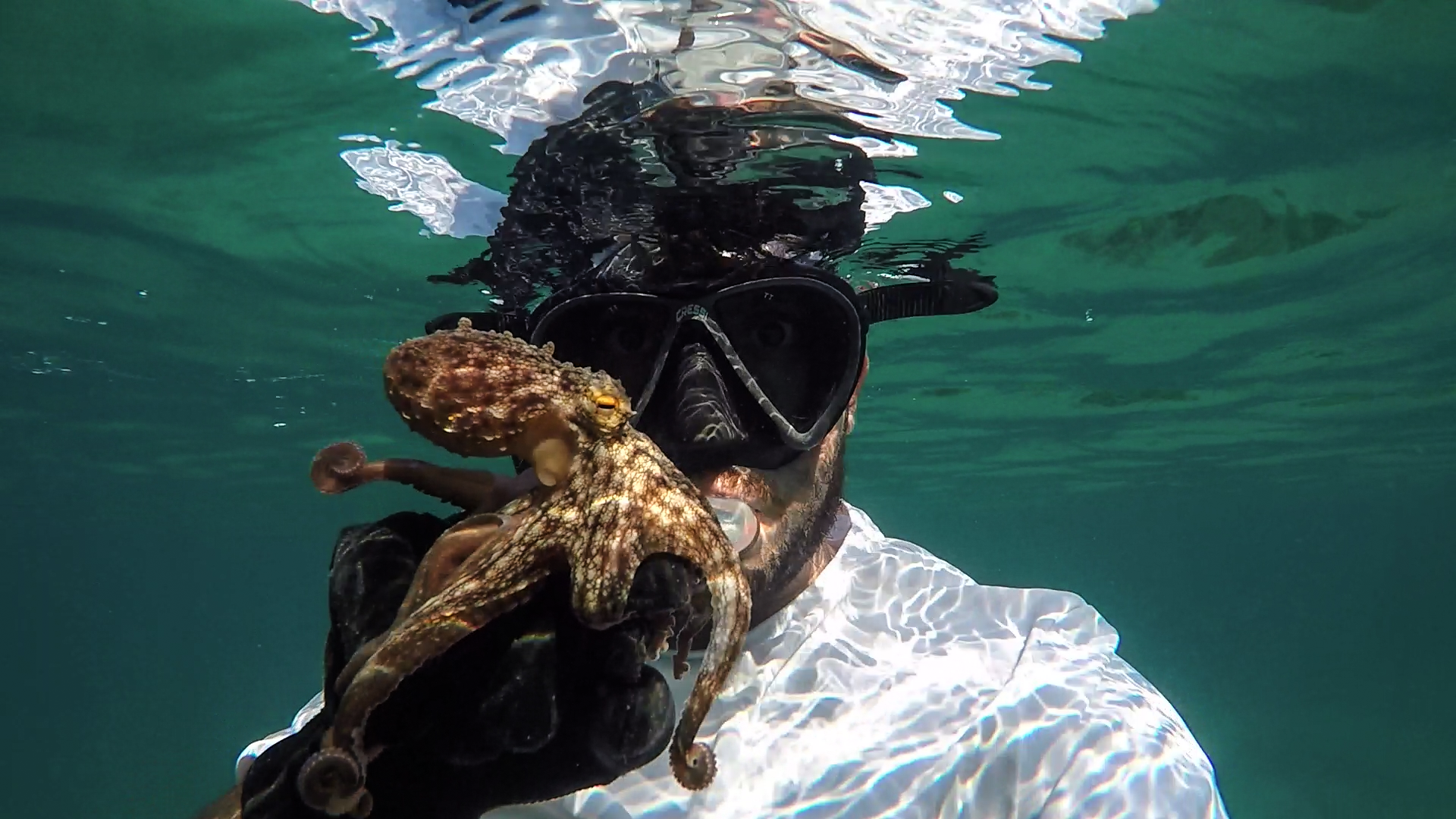 South Sicily Snorkeling For Octopus
Click here to know the exciting details of our South Sicily Snorkeling For Octopus Tour.
Other Snorkeling Sicily Packages
North Sicily Snorkeling For Octopus Tour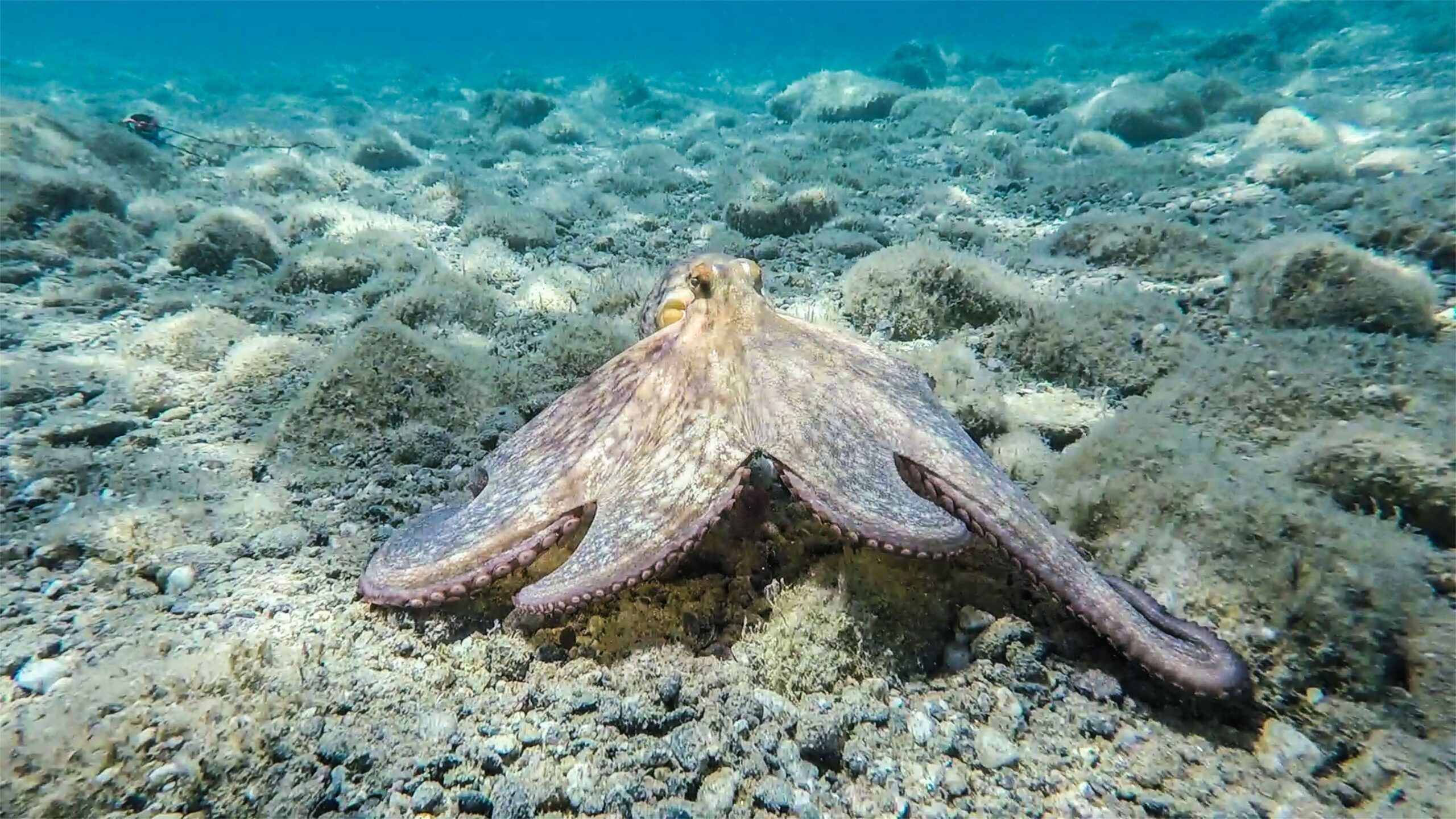 West Sicily Snorkeling For Octopus Tour
Archaeology And Snorkeling Combo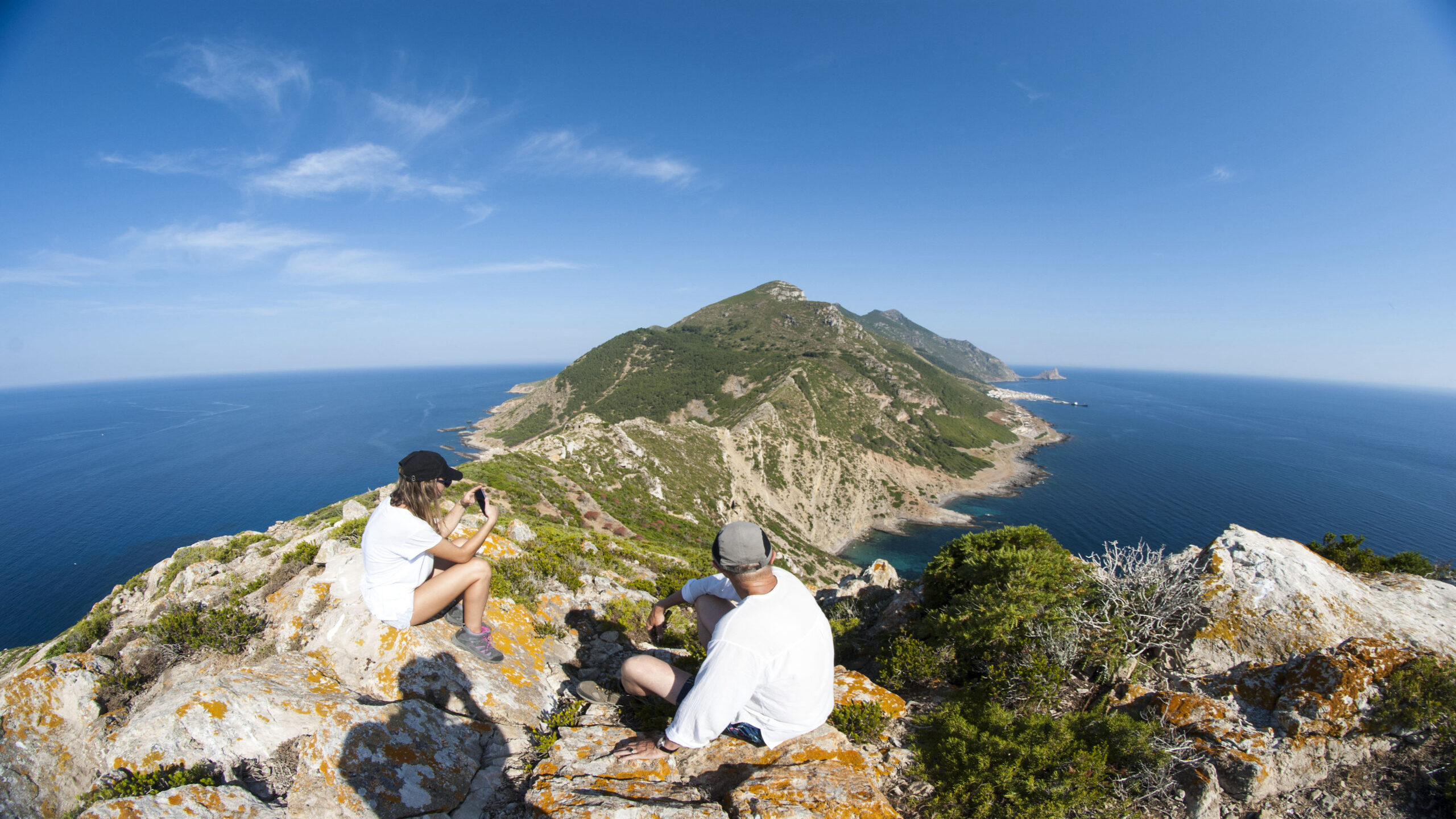 Hiking And Cave Snorkeling Combo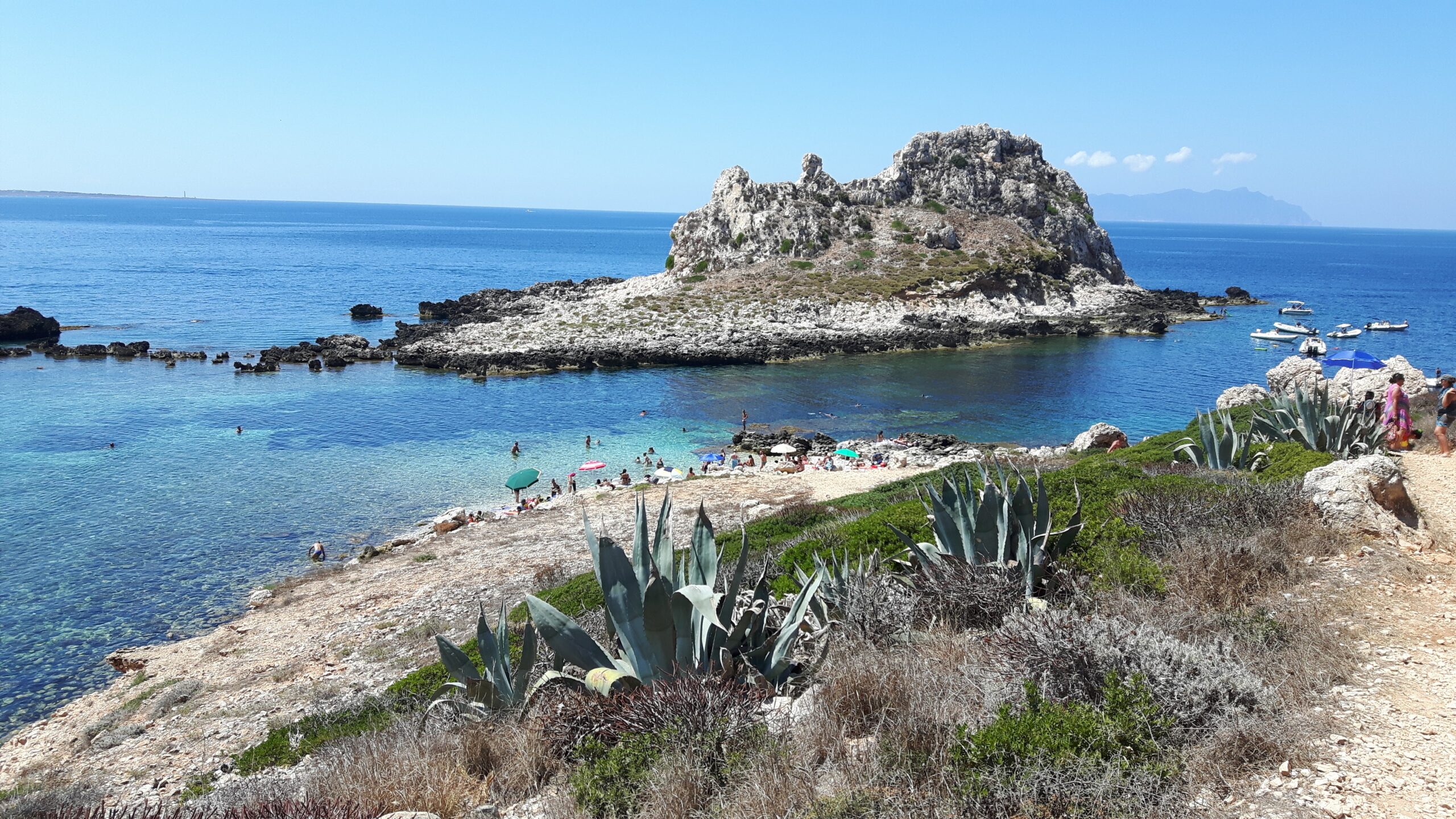 Egadi Islands Archaeology And Snorkeling Combo
Eastern Sicily Snorkeling Adventures
Eastern Sicily snorkeling offers a unique chance to snorkel on top of old and legendary eruptions. The Volcano Etna and its lava rivers, shaped a huge coastal area, going from Catania to Taormina. Consequently, the shore and the bottom of the sea are the results of old volcanic phenomena. The Volcanological Snorkeling tour takes place near Catania or Acireale, in some particular hotspots. Some marine reserves, including Islands and stacks, will be the theatre of an epic and informative snorkeling session.
During this snorkeling, in particular, you have to expect the following things.
Columnar basalts shaped like organ pipes by old underwater magma emissions
A black lava stone island with a limestone layer on top lifted above the surface during an underwater eruption
A healthy and colored wildlife contrasting the dark lavic stone bottom
Opportunity to climb the famous stacks to see the Sicilian coast and Etna from the sea; to hear some of the most famous Odyssey legends, which are known to happen exactly on the snorkeling points.
It is also possible to combine this snorkeling with one of the Etna hiking tours we guide. The hiking part is usually earlier in the morning, in order to refresh in the hotter part of the summer days. This hiking and snorkeling tour will give you a comprehensive experience and overview of the volcano Etna.
Volcanological Snorkeling Packages
Volcanological Snorkeling
Volcano Hiking and Snorkeling
Volcano Hiking and Snorkeling
Multiple Day Snorkeling Packages
The wildest parts of Sicily are the islands located off the coast of the main island. On those small islands and archipelagos, we operate most of the multi-day snorkeling tours. If you are available to spend with us more than one day, expect to experience, probably the best snorkeling in Sicily!
The remote position, often located in the middle of the Mediterranean Sea, makes these destinations unique. Wildlife is at the very top of the whole Mediterranean Sea. Geology is surprising because of the formation history of the islands. Some are volcanic; others calcareous, created by the continent separation, and more.
Because of the very high quantity of sights available, both in and out of the water on these places we offer only tours of multiple days. Life here is slow and relaxed. Sunny most of the time, with very enjoyable temperatures year-round. Mild in winter; warm but breezy in Summer and just perfect in Spring and Autumn.
2-Day Egadi Snorkeling Tour
3-Day Pantelleria Geothermal Snorkeling Tour
5-Day Pelagie Snorkeling Tour